Classes offered
Music Munchkins 3-5 years

This class is a fun creative class for an introduction to music with various instruments. We explore music, rhythm, sounds, movements. We develop listening, sharing, and performance skills. Music and vocal games keeps the classes lively and fun. We use songs and music to develop focus in a nurturing, fun-filled way.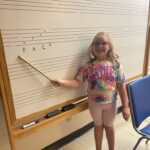 Music & Singing Classes 6yrs & above
Music and singing instruction where students are gaining a foundation in whistle technique while developing sensitivity to rhythm, pitch, and musical expression. They also develop the ability to read and play music together. 
The little Shamrock Children's Choir 6-11 years
The goal is to introduce children to basic musical notation, helping to prepare for future instrumental study and vocal performances. Children will develop vocal and aural skills and enjoy singing in a group setting. A song list and play list will be included so families can continue making music at home.Children will develop a sense of awareness and musical expression through song, learning about various cultures with an emphasis on Irish culture, heritage & language. Repertoire will engage students' interest as they develop the ability to sing in harmony. Children will be trained & prepared to sing at various prestigious performances throughout the NY area.
Piano:
Class time is divided between learning the basics of technique at the piano and activities that develop sensitivity to pitch, rhythm and musical expression. Students should have a keyboard at home to practice on.
Guitar:
Small group instruction is divided into learning the basics of the gurar technique and activities that develop sensitivity to pitch, rhythm and musical expression. Students play appropriately sized nylon string guitar and footstool for use at home.
Banjo/Bodhran/Flute/Fiddle/Mandolin
Lessons are available privately or in a group setting. All instruments are available to rent.
Private Instrument/vocal classes
Please contact Dawn directly to discuss the availability of private lessons.
Tutors
All tutors are trained, vetted, and qualified teachers with over 20 years experience in teaching. 
Adult Music Classes
Classes offered in all instruments. Groups and privates available. Please inquire for additional information.