A little about Dawn…
Dawn Doherty, was born in NYC and raised in Castlebar Co. Mayo, Ireland. She developed a love of Irish music having been immersed into music and singing at an early age by her mother Maryanne and Father Joe, both with a family history of music. Dawn is a several time All-Ireland champion musician and singer. Throughout her musical career she has competed at various competitions, including Fleadh Cheoil, an Oireachtas, Readoiri, and Scor and has won several All-Ireland competitions. Dawn also performed professionally as both a solo artist and also as part of a group. She has performed throughout the United States and Europe with her brother Dean, who is an accomplished percussionist and who is also an All-Ireland medal winner.
Pursuing her passion for music and teaching, Dawn received an Honors BA degree in Irish music and dance from the Irish World Academy of Music and Dance at the University Of Limerick, Ireland and an Honors Master's degree in Music Therapy. Dawn graduated with first class honors from Lehman College in New York with a Master's degree in Science and Education in 2016.
Dawn's music background is extensive and she hails from a family of musicians. However, she credits her grandmother, Sarah Lynskey-Miller) who hailed from the Gaeltacht area of Belmullet, Co. Mayo for introducing her to the Sean-nos style of singing. She has mastered this style over the years and performs annually as a guest artist for the St. Patrick's Day festivities in St. Patrick's Cathedral at the request of Professor Mick Moloney from New York University.
Dawn has performed for former Mayor(s) Michael Bloomberg and Rudolph Guiliani of NYC and for the former US consulate general ambassador (s) for Ireland Mr. Niall Burgess, and Ms. Jean Kennedy Smith. She was invited and has performed in prestigious venues such as Lincoln Center in NYC and Wolf Trap, Virginia with the legendary country and western music star Ricky Skaggs.
Dawn just won gold as the first place winner in the All-Ireland Fleadh 2016 singing competition for newly composed ballads in Ennis, Co. Clare.
The Dawn Doherty Academy of Irish music and singing is located at the Aisling Irish Community Center in Yonkers. Dawn teaches group and private lessons. She has truly found a way to merge her love of music and signing and is committed to passing on those skills and her love of music to the next generation of Irish musicians.
For more information, check out Dawn's website: dawndohertymusic.com or call 914-882-6655 or email dawndoherty2@gmail.com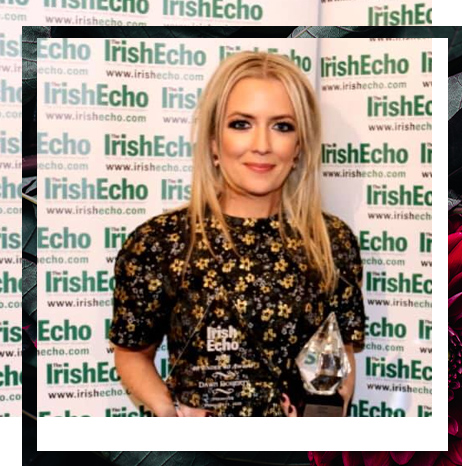 Music can change the world because it can change people.
It's so cool to pick up the guitar and create something that didn't exist 5 minutes ago. You can write something that no ones ever heard before. It's music at your fingertips.

MY UPCOMING GIG

Corona Center • Montreal • CA